The Silverback Bushcraft Mentoring scheme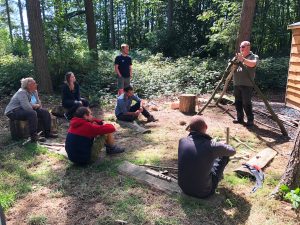 Join our brand new scheme designed for people who want to follow a career in Bushcraft or want to improve their skills. Our mentoring scheme follows a series of modules based around the core Bushcraft skills, which will include: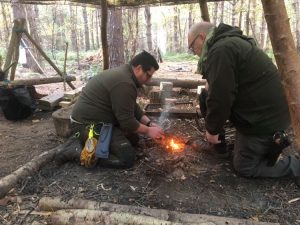 Shelter building, fire lighting and fire management, water procuring and purification, foraging, tracking, wood carving and greenwood working, cordage and net making, navigation, Tree and plant identification, open fire cooking, tool use, leather working, blacksmithing, weaving and general camp craft.
We will also include sessions on lesson planning, delivering lessons, Risk assessment and outdoor First Aid.
Our mentoring scheme includes all the content of the Bushcraft Competency Certificate training and will prepare you for the IOL Bushcraft Competency Certificate assessment
On joining the scheme you will receive a Mentoring scheme Polo Shirt and Log book to record your achievements and  progress through your bushcraft journey. You will also be included in the Silverback Bushcraft mentoring scheme Facebook and WhatsApp group,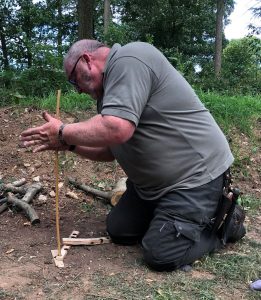 Also as part of the mentoring scheme you will have the opportunity to join us as part of the Silverback Team at some of the shows that we attend such as The Bushcraft Show,
The Cost
joining fee: £250      £85 per weekend.
We have chosen to structure the cost like this so you can pick and choose which sessions/modules you attend
| | | | |
| --- | --- | --- | --- |
| Date | Course/Event | location | Cost |
| 23-24 Jan | Shelter | Chambers Farm Wood | £130/85 |
| 27-28 Feb | Fire | Chambers Farm Wood | £130/£85 |
| 27-28 Mar | Birch Weekend | Chambers Farm Wood | £150/£85 |
| 17-18 Apr | Cordage/ navigation/water | Chambers Farm Wood | £130/£85 |
| 26-27 June | Natural containers | Chambers Farm Wood | £130/£85 |
| 17-18 Jul | Tool use/ tree ID | Chambers Farm Wood | £130/£85 |
| 21-22 Aug | Carving | Chambers Farm Wood | £130/£85 |
|   | | | |
| 30 Apr-2 May | Off Grid Survival Show | Newark Showground | |
| 8-9 May | Northern Shooting Show | Harrogate | |
| 27-31May | The Bushcraft Show | Chillington Hall | |
|   | | | |
| TBC | Leather working | TBC | |
| TBC | Blacksmithing | TBC | |