Bushcraft~
Surviving and thriving in the natural environment,and the acquisition of modern and ancient skills and knowledge to do so….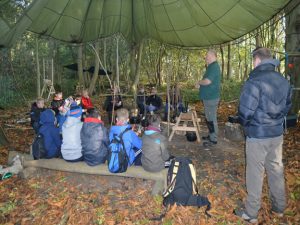 Bushcraft Basics
£75
This course is designed to give a good foundation in Bushcraft skills including introductory sessions on: Shelter building, Fire lighting, water collection and purification, wild foods and camp craft.
Bushcraft Essentials 
£75
This course is designed to give build on the skills acquired on the Bushcraft Basics course. Skills including sessions on : Shelter building, Fire by friction, The right fire for the job, Water collection and purification, wild foods, natural cordage and camp craft. You do not need to have attended the Bushcraft Basics course to attend a Bushcraft Essentials course.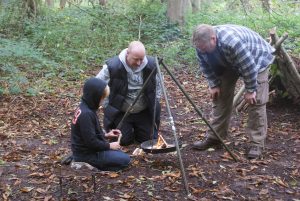 Bushcraft Weekend
£130
A full on weekend of Bushcraft!
This course is an extended, more in depth versionof our Bushcraft Basics course but includes an overnight camp. This course includes evening meal on the first day and breakfast the second day.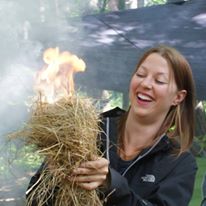 Fire Weekend
£130
A weekend dedicated to fire!
This is one of our new courses, totally dedicated to fire lighting. Over the weekend will examine ignition sources from lighters to friction fire lighting, natural tinder, man-made tinder, building the right fire for the right job, a variety of fire lays from a tipi fires to Dakota fire pits, making char cloth, hobo stoves and sourcing and making your own Bow drill set.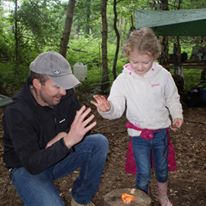 Family Weekend
£120 (One adult one child)
£175 per family (2 adults 2 children)
A great opportunity to share a family adventure! During our family weekends we will cover shelters building, fire lighting, campfire cooking, water filtration, knife safety and knife skills (dependant on children's ages) char cloth and charcoal making, bread making, tree id, natural cordage and whatever else we can fit in!
The Birch Bark Weekend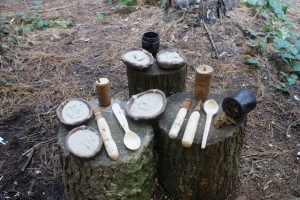 £150
This weekend concentrates on Birch, The Bushcraft Tree! over the weekend we will explore the history and folklore of this amazing tree Starting Saturday morning we will make:
Birch oil soap, Birch bark pots, Nordic summer style insect repellent, Birch tar and birch oil carve a spoon and make a craft knife with a birch bark sheath make amadou from the horse hoof fungus, char birch polypore, make birch syrup for Sunday breakfast with pancakes and sample some birch sap beer and wine.
some subject matter may not be available if the course does not coincide with birch sap rising
Edible and Medicinal Plants
£75
This course covers:
Foraging safety and the legal aspects of foraging
Foraging – Identifying plants, describing uses and collecting as we go.
A Lunch of homemade burger/veggie burger flavoured with wild herbs in roll with Hawthorn Ketchup, Hedge Garlic mayonnaise and wild salad.
Depending on availability
Make a fruit jam or jelly (hawthorn/blackberry) Make a syrup (elder/rosehip) Make plantain cream
Tracking and Awareness an introduction
£75
This course gives you an introduction to tracking.
during the course we will:
Carry out awareness exercises, understand what is track and sign, Basic track ID, Looking for tracks, Feeding and other sign, Action indicators Recording tracks with Photos and Plaster casts and make plaster casts of tracks
Bushcraft, the next level
£130
Bushcraft the next level is aimed at people who already have some bushcraft experience and would like to increase their knowledge and skills set.   This course includes tarp setups and knots, campfire gadgets, pot hangers, natural tinder's, atlatls, Dutch arrows and natural cordage.
Your knife is your life,
£130
 using just a bushcraft knife you will build a shelter make water safe to drink, light a fire, make tools to gather food and lots more.
Bushcraft Birthday Parties.
Prices from £135
Celebrate your Child's special event with a Bushcraft party. Shelter building, fire lighting, Bushtucker trails. Choose from a wide range of activities to suite your child and their friends. Price for up to 10 Children