Bushcraft~
Surviving and thriving in the natural environment,and the acquisition of modern and ancient skills and knowledge to do so….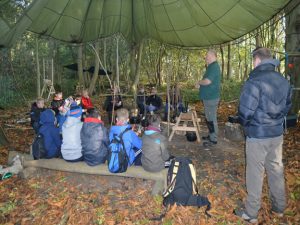 Bushcraft Basics
£65
This course is designed to give a good foundation in Bushcraft skills including introductory sessions on: Shelter building, Fire lighting, water collection and purification, wild foods and camp craft.
Bushcraft Essentials 
£65
This course is designed to give build on the skills acquired on the Bushcraft Basics course. Skills including sessions on : Shelter building, Fire by friction, The right fire for the job, Water collection and purification, wild foods, natural cordage and camp craft. You do not need to have attended the Bushcraft Basics course to attend a Bushcraft Essentials course.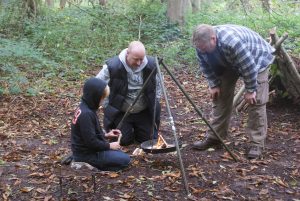 Bushcraft Weekend
£120
A full on weekend of Bushcraft!
This course is an extended, more in depth versionof our Bushcraft Basics course but includes an overnight camp. This course includes evening meal on the first day and breakfast the second day.  and a Mora bushcraft knife for over 18's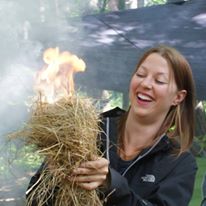 Fire Weekend
£120
A weekend dedicated to fire!
This is one of our new courses, totally dedicated to fire lighting. Over the weekend will examine ignition sources from lighters to friction fire lighting, natural tinder, man-made tinder, building the right fire for the right job, a variety of fire lays from a tipi fires to Dakota fire pits, making char cloth, hobo stoves and sourcing and making your own Bow drill set. Every course participant will receive their own Ferrocerium  rod (fire steel)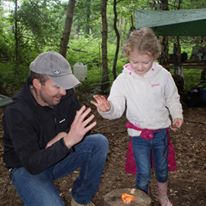 Family Weekend
£80 (One adult one child)
£140 per family (2 adults 2 children)
A great opportunity to share a family adventure! During our family weekends we will cover shelters building, fire lighting, campfire cooking, water filtration, knife safety and knife skills (dependant on children's ages) char cloth and charcoal making, bread making, tree id, natural cordage and whatever else we can fit in!
Shelter Weekend
£120
All things Shelters from tarps to debris Shelters
On this course we cover: shelter placement, useful knots, different tarp set ups, building shelters from the natural resources found in the woods, shelters  for one person or groups.You will also have the opportunity to set up and use a hammock and tarp or sleep in the shelter you build!
Bushcraft Birthday Parties.
Prices from £95
Celebrate your Child's special event with a Bushcraft party. Shelter building, fire lighting, Bushtucker trails. Choose from a wide range of activities to suite your child and their friends. Price for up to 10 Children